Vanquish Day Trader Bootcamp ​
#1 Online Course for Day Trading Futures!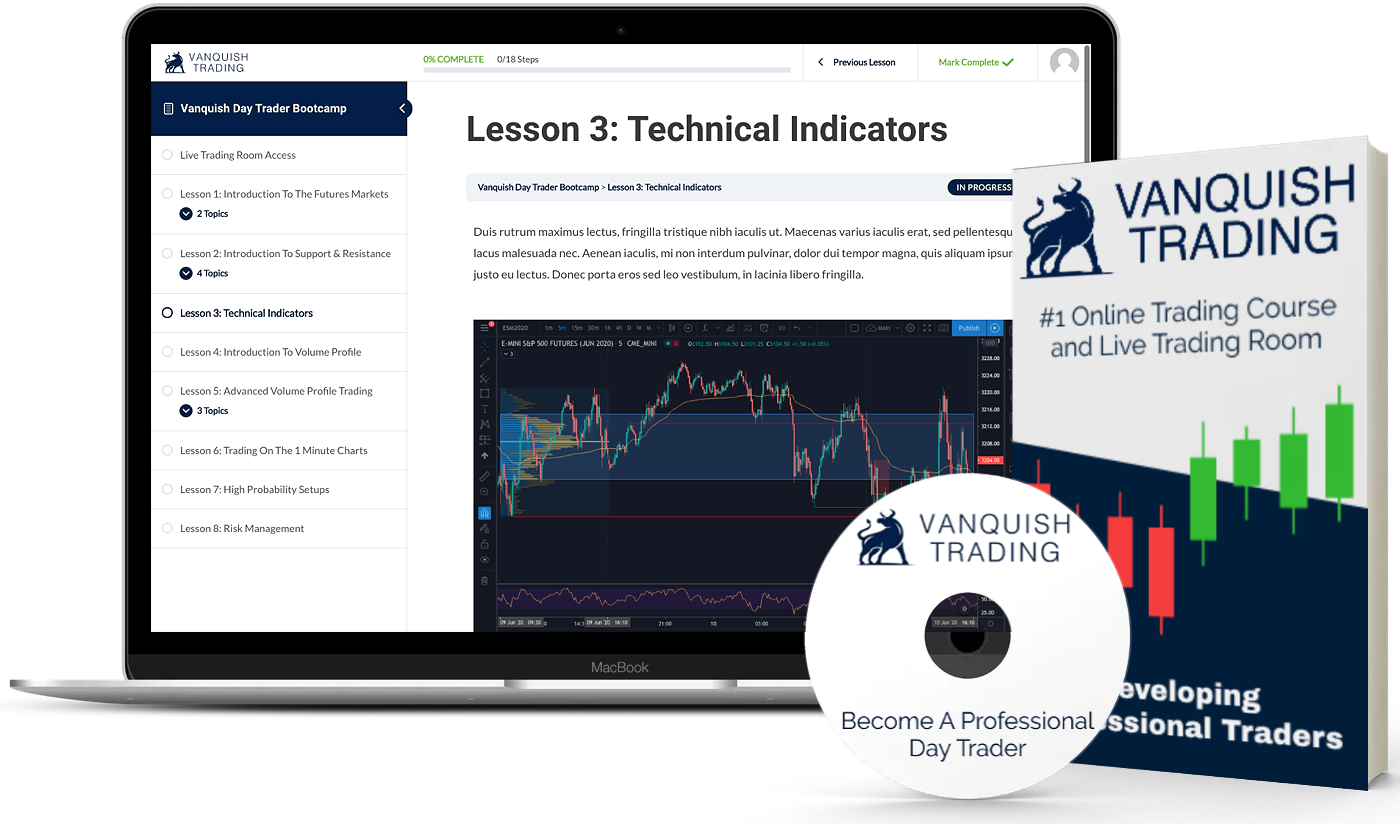 Consistency Starts Here,
Our Industry Leading Trading Course
Our mission here at Vanquish Trading is to teach you a skill set that will last a lifetime. This course will teach you how to see the Futures markets clearly and trade confidently in any market condition. From the basics of getting started, to more advanced trading techniques, everything you need to become a professional trader will be found in this course.

Support & Resistance
The foundation for all Technical Analysis. Learn how to scan your charts to find areas of significant support and resistance. Adapt and react to price action as it moves between supply and demand zones.



Trading Psychology
Trading is the hardest game in the world. Your going up against people and institutions that are smarter than you, and have access to more money than you. But the toughest challenges bring the greatest rewards. Learn to master your mindset and trade like the pros.

Volume Profile
A very powerful charting study that shows the traded volume over a specified trading period. In this course you will learn how we can use this volume data to identify high probability levels to trade off of.



Risk Management
An often overlooked topic that is vital for aspiring day traders to grasp. The name of this game is capital preservation. As traders we must manage each trade carefully or risk not surviving to trade another day. Further your edge with our risk management strategies.
Fully Transparent Trading.
Introducing Our Live Trading Room.
Included with your course enrollment, you'll have access to our private trading room. Follow our head trader and get real time alerts with detailed entry and exit notes whenever we take a trade. It's one thing to learn how to trade, but here you'll gain real world experience and apply your knowledge from our course. Our goal here is to create a community of like-minded traders who can confidently make decisions and trade alongside one another virtually. 
Our intuitive and easy to follow online course platform.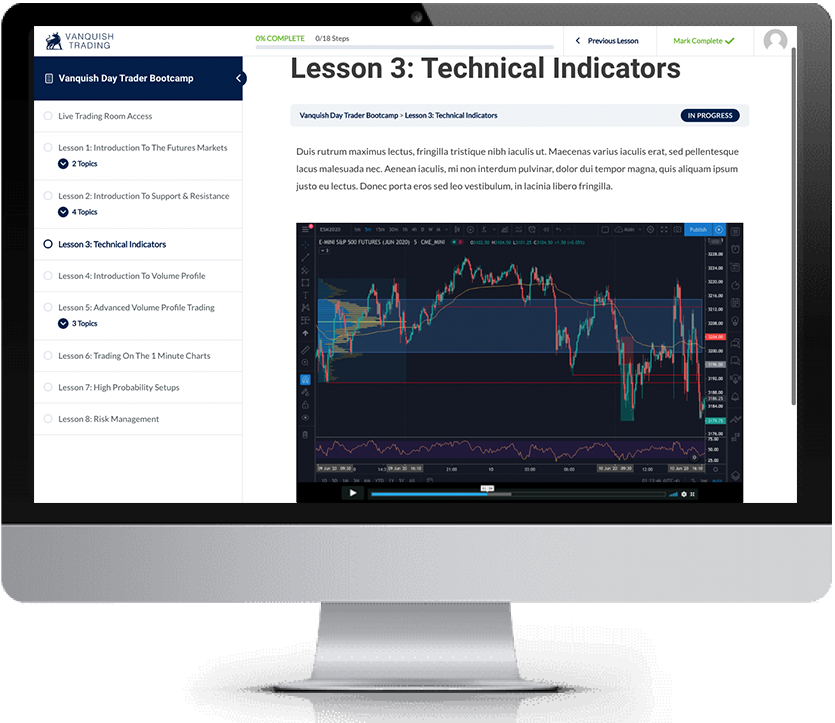 Learn at your own pace with our step by step online course. No intimidating, hard to follow or draining videos that are hours long. Each lesson in the course is made with the goal of having the best user experience possible. Our high quality videos are straight to the point with no fluff added in. We aimed to make each video lesson as short as possible while still teaching even the most advanced strategies.  
Frequently Asked Questions
The internet is flooded with fake financial gurus/mentors that are feeding false hopes and dreams to young aspiring traders. They flaunt their "lavish" lifestyles and "trading success" but they never show any transparency for their trades and their courses are nothing more than basic support and resistance principles you can find on Google. Our goal here at Vanquish Trading is to teach you how to become a confident self sufficient day trader. We will never feed you false hopes. Trading is hard, plain and simple. But we have designed a course that cuts through unnecessary topics and gets right into proven strategies that make money. Our fully transparent Live Trading Room allows you to follow our head trader with detailed entry and exit notes to gain real world experience. You will not find a course or trading room like ours anywhere else.
Firstly, you do not need to open a brokerage account to take this course. This course is designed to teach you how to become a professional day trader. Both the course and live trading room can be utilized on any demo/paper trading account until you are ready to trade live. Now, back to the question. Believe it or not, many major brokers will allow you to open a Futures account with no minimum account size. With the recent addition of Micro E-mini contracts, the Futures market is more beginner friendly than ever. Some brokers even allow you to trade an MES contract with an intraday margin as little as $50. As always, never risk more money than you can afford to lose.
The question that we hear the most is "Should I trade the Stock Market, Forex, or Futures?" While each market does have its own set of positives and negatives, there is one thing that is 100% for certain. Forex is by far the worst market that any retail trader can trade. Forex is a highly manipulated market that is dominated by the largest financial institutions in the world. To make it even worse, there is little to no regulation, and no accurate volume data. Both the Stock Market and Futures markets are regulated exchanges with completely transparent volume data. This is a huge advantage for retail traders. What gives the Futures market an edge over the Stock market is that there is no PDT rule. The PDT rule limits the amount of trades you can make in a week to 3 unless you have an account of at least $25,000. Not ideal for beginners. The Futures market is the sweet spot for aspiring day traders.
Learn how to become a professional day trader, become your own boss and work from home. Take that first step towards achieving your goals and dreams.