Vanquish Trading Private Trading Room
Included in your subscription to the course.
Fully Transparent Trading.
Introducing Our Live Trading Room.
Included with your course enrollment, you'll have access to our private trading room. Follow our head trader and get real time alerts with detailed entry and exit notes whenever we take a trade. It's one thing to learn how to trade, but here you'll gain real world experience and apply your knowledge from our course. Our goal here is to create a community of like-minded traders who can confidently make decisions and trade alongside one another virtually. 
Follow Systematic Trading Plans

Joining our private trading server gives you access to detailed Trade Plans that prepare you for the day(s) ahead. Wether you're a Day Trader or Swing Trader, our Trade Plans will give you clear insights on the current markets and where they may be heading. All Trade Plans have charts with significant levels to trade off of as well as a quick summary of how you can trade them. See some examples below!
Our intuitive and easy to follow online course platform.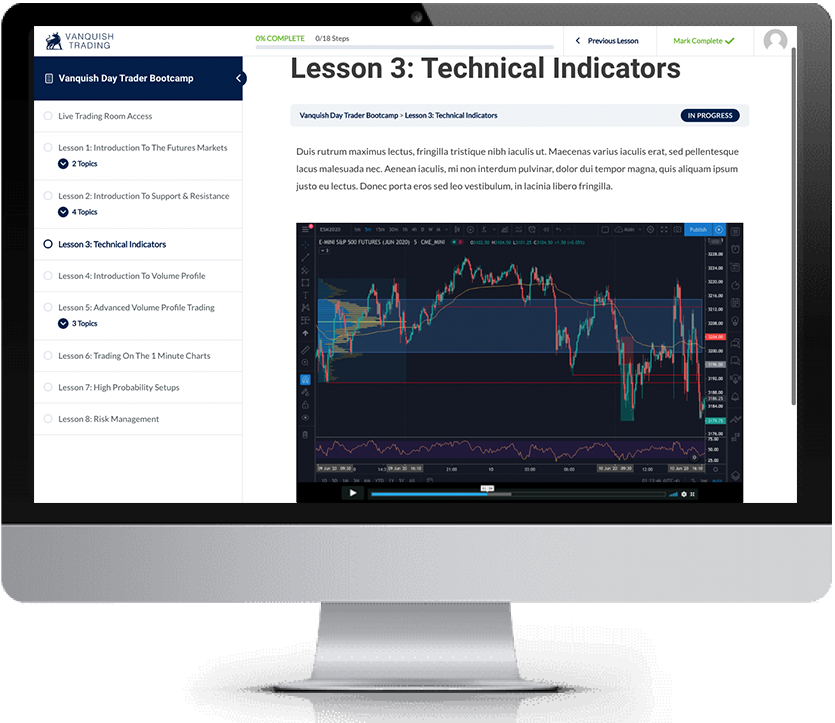 Learn at your own pace with our step by step online course. No intimidating, hard to follow or draining videos that are hours long. Each lesson in the course is made with the goal of having the best user experience possible. Our high quality videos are straight to the point with no fluff added in. We aimed to make each video lesson as short as possible while still teaching even the most advanced strategies.  
"I think what sets this course apart from others is how professional the online platform actually is. The course is easy to use, easy to follow and everything is just laid out perfectly. I've had online college courses that were laid out worse than this. If you're serious about learning how to day trade, don't hesitate to join."
Manny, Beta Tester
Discord - Manny23
"I've learned more in 2 weeks here at Vanquish Trading than I have in 1 year trading by myself. The course taught me how to see the markets more clearly and how to spot significant levels to trade off of. And the trading room has been great for giving me the confidence to take trades based off my analysis."
Alex, Community Member
Discord - alex98
"I've been trading Futures and Options for a long time now, but I've always struggled with consistency until I joined Vanquish Trading. The course has taught me how form a trading plan and wait for high probability setups to come to me. It's more than just a trading course, it's also mindset training to help you become a better trader."
Jeff, Community Member
Discord - jeffb43
Learn how to become a professional day trader, become your own boss and work from home. Take that first step towards achieving your goals and dreams.